Screening for Ovarian Cancer
The ROCA Test helps clinicians identify whether a woman may have ovarian cancer.
Eligibility
The ROCA Test is for women who are:
Postmenopausal and over 50 years old
Between 35 and 85 years who are considered high risk due to family history of ovarian or breast cancer; are of Ashkenazi Jewish descent with a known family history of ovarian or breast cancer; or have a mutation in the BRCA1 or BRCA2 or Lynch Syndrome genes
The ROCA Test is not yet available through the NHS.  The UKCTOCS will publish the results of its extended follow-up phase by June 2021 to help give a clearer indication of whether screening using the ROCA Test reduces the number of deaths due to ovarian cancer.  If a positive result is reported and screening proves to be economically beneficial, Public Health England will consider rolling out a national screening programme for post-menopausal women over 50 years old.
Any clinician wanting to offer the ROCA Test as part of their private consultations should also contact us on 0845-474-0003 or by Email at rocatest@abcodia.com
Abcodia is working in partnership with the NHS in a implementation project for women at high risk of ovarian cancer, and specifically those who carry a genetic mutation in one of the two BRCA genes. This project is called ALDO (Avoiding later Diagnosis of Ovarian cancer) and women who know that they carry such a mutation and who have decided to delay removal of her ovaries, can enquire about their suitability for this one year pilot implementation project by getting in touch with  the project team at uclh.aldo@nhs.net
Outcomes in UKCTOCS
The UK Collaborative Trial of Ovarian Cancer Screening (UKCTOCS) was a 15-year clinical trial, involving over 200,000 women. One arm of this 15-year randomised controlled trial investigated the use of the multimodal screening (MMS, ROCA Test followed by transvaginal ultrasound) to detect ovarian cancer in asymptomatic postmenopausal women between 50 and 74 years old.1,2,3
These results, published to date in the Journal of Clinical Oncology and The Lancet, show:
High sensitivity: 85.8%3
High specificity: 99.8%3
High positive predictive value (PPV): 20.8%3
Performance using the MMS or an ultrasound strategy (USS) are compared below4: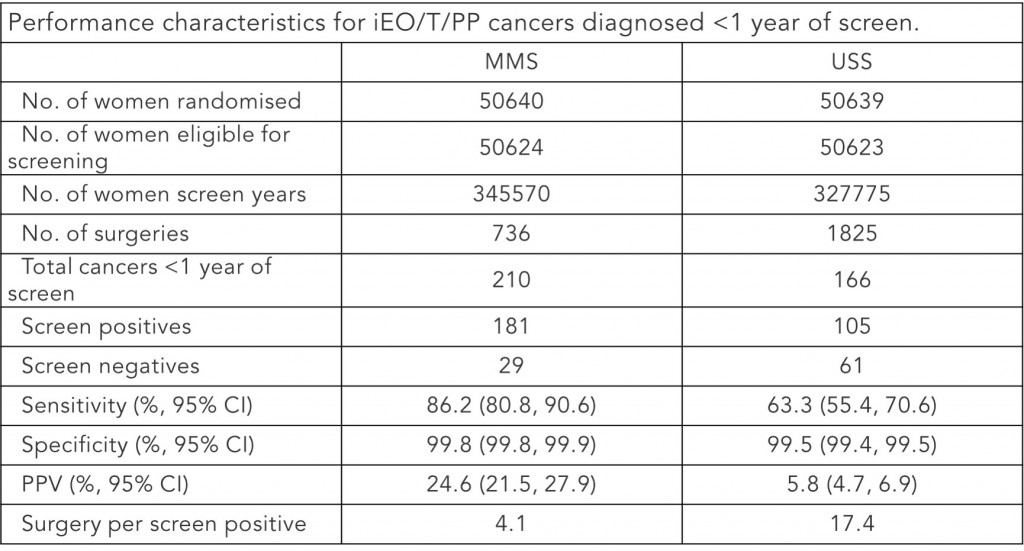 *iEO/T/PP: invasive epithelial/tubal/primary peritoneal
The Lancet publication3 compares the stage of ovarian cancers detected in the MMS and Control arms of UKCTOCS and reported a significant stage shift, i.e. more Stage I, II and IIIa ovarian cancers being detected through screening (119 of 299 [40%]) than the no screening group (149 of 573 [26%]; p<0001).  Mortality analysis revealed an average reduction in ovarian cancer deaths of 15% in MMS group compared to control but this was not definitive.  The final extent of reduction remains to be determined as the ovarian cancer death rates were increasing in the control group and levelling off in the multimodal and ultrasound groups. Follow-up is continuing till 31st Dec 2018 when a second mortality and cost effectiveness analysis will be undertaken.
Performance of the ROCA Test as reported in UKFOCSS
The UK Familial Ovarian Cancer Screening Study (UKFOCSS) was a 10-year clinical trial, involving over 4,300 women at an estimated >10% lifetime risk of developing ovarian cancer. All women participating in this study received multimodal screening (MMS, ROCA Test followed by transvaginal ultrasound) every 4 months, in addition to an annual ultrasound if ROCA remained normal. At the time of recruitment, women were asymptomatic women between 35 and 85 years old.5
These results, published in the Journal of Clinical Oncology, showed:
A highly significant reduction in the proportion of women being diagnosed with macroscopic metastatic disease outside the pelvis (from 95% to 37%).
A significantly lower proportion of women requiring neoadjuvant chemotherapy (5% vs. 44%).
A very high proportion (95%) with zero residual disease post-surgery, despite the lower use of neo-adjuvant chemotherapy. Zero residual disease status is one of the strongest predictors of prognosis in ovarian cancer.
Only 21% of women undergoing surgery required anything more than a simple hysterectomy and omentectomy, compared with clinically presenting cases, where surgery is usually more complex and frequently involves other procedures such as bowel resection.
In a parallel US publication6 (including a smaller number of incident cancers), although it included a smaller number of incident cancers, demonstrated similarly encouraging earlier stage diagnosis. Qualitative data7from the UK cohort suggests that screening itself may prompt women to focus on their risk of cancer and push them towards the risk-reducing surgery which they need. Therefore, another important secondary benefit of screening may be that it encourages uptake of a proven cancer prevention strategy.
Learn more with our ROCA Test FAQs
---
References: